Certifications
Quality in accordance with ISO 9001:2015
We are ISO 9001:2015 certified. This means we can assure you of a continuous quality of service.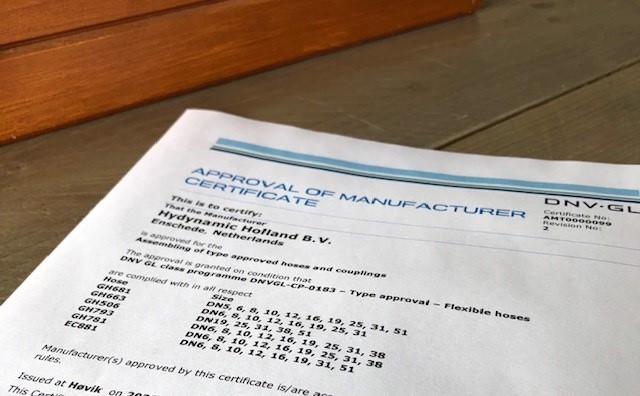 DNV authorized assembling center
Moreover, Hydynamic Holland BV is a DNV authorized assembling center. We have the authority to independently test the Danfoss/Aeroquip hose assemblies and to provide the hoses with a test certificate. If required we can supply you with a DNV approved hose within one working day! The certificate will be included, you do not have to wait weeks or even months for it.
All to a competitive tariff!
DIN-ISO
Hydynamic Holland BV has the DIN-ISO 9001: 2015 standard, so you as a customer are assured of a continuous quality of our services. An annual audit is therefore carried out in which everything is carefully checked, in order to ensure that this quality is also guaranteed in the future.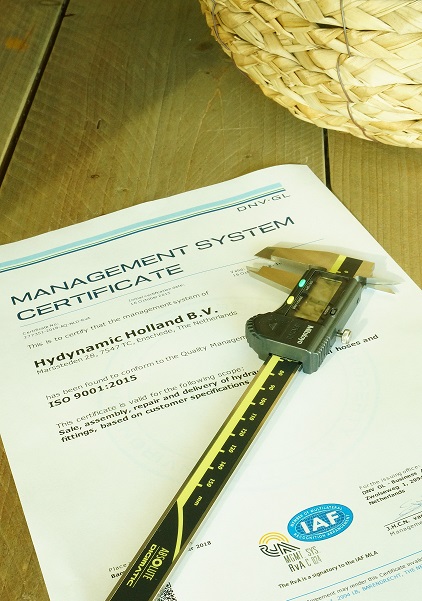 Other inspection authorities
Of course, all hose assemblies can also be provided with a certificate by other inspection authorities, such as ABS (American Bureau of Shipping), Bureau Veritas, Lloyd's Register, RINA, and even CCS (China Classification Society). A Type Approval Certificate can always be issued with our hoses.








Our guarantee
Hydynamic Holland BV offers a 3 year guarantee on all Danfoss / Aeroquip hose assemblies (provided that it was assembled by the customer according to the DIN norm 20066).
NEN-EN 10204
Hydynamic Holland BV works according to the NEN-EN 10204 standards with regard to the issue of certificates.